Má Vlast
Orfeo • 2 CD • 1h 27min
Order No.: C 836 112 B
---
Composers/Works:
B. Smetana: Vysehrad
B. Smetana: Vltava (Die Moldau)
B. Smetana: Sárka
B. Smetana: Z ceskych luhu a haju (Aus Böhmens Hain und Flur)
B. Smetana: Tábor
B. Smetana: Blánik

Artists:
Lovro von Matacic (Dirigent)
ORF Radio-Symphonieorchester Wien (Orchester)

Bedrich Smetana - Má Vlast
Although he was never one of the 20th century's most prominent conductors in terms of his festival appearances and recording contracts, Lovro von Matacic (1899–1985) was in many ways comparable to today's top conductors.


C 836 112 BHe was a welcome visitor to the world's major concert platforms and opera houses from La Scala, Milan, to the Bayreuth Festival and the Chicago Lyric Opera in a repertory extending from the Baroque to contemporary works and sometimes even including pieces that he had written himself. A native of Croatia, he tended towards the end of his life to limit his appearances to Monte Carlo, Tokyo and Vienna, where he had been a member of the Vienna Boys' Choir in his youth and where for many years he remained active at the State Opera. Orfeo is now releasing a live recording of a concert that he gave with the Austrian Radio Symphony Orchestra in 1982.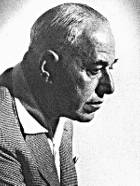 Lovro von Matacic
Foto: Archiv der Bayreuther FestspieleOn the programme was Smetana's symphonic cycle Má vlast (My Fatherland), a cycle that Matacic himself had asked to conduct. He seized the opportunity that was offered to him to allow a non-Czech audience to hear the whole work, rather than just Vltava, the section that tends to be performed in isolation in the concert hall. Smetana's unmistakable melodic ideas and the warm sound of the strings and woodwinds can sometimes sound sentimentalized and even kitschy, but Matacic avoids that impression thanks to his tight control, and this is true even of those unashamedly patriotic passages in which exactly coordinated rhythms and brass entries are of paramount importance. In this way he ensured that a cycle of works created over a period of several years overwhelms its listeners with its positively archaic force, even where the headings and programmatical subjects sometimes leave questions unanswered, as in the relatively unknown third section, which describes the murderously man-hating Amazon warrior Šarka, or in the two final sections, Tábor and Blaník, both of which allude to myths surrounding the birth of the Czech nation. In Matacic's Viennese interpretation they produce a magnificent sound painting that in its entirety deserves our admiration and astonishment not just within the confines of its land of origin.
---
| | | |
| --- | --- | --- |
| | move to consequent order no. | |
ORFEO
ORFEO D'OR