J. Widmann: Ad absurdum for Trumpet and Small Orchestra
F. Mendelssohn Bartholdy: Symphony No. 4 A major op. 90 (Italian)


Artists:

Sergej Nakariakov (Trompete)
Irish Chamber Orchestra (Orchester)
Jörg Widmann (Dirigent)

Mendelssohn Symphonies 1 & 4
Today


C 914 161 Athere is an unbroken fascination with complete recordings, especially of symphonic cycles. So the quality of Mendelssohn's symphonies, combined with their astonishing obscurity, makes them an extremely appealing project. ORFEO is delighted to begin a new collaboration with the Irish Chamber Orchestra and its Artistic Director Jörg Widmann to record the symphonies of this great, yet still underestimated Romantic composer.
The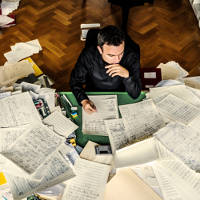 Jörg Widmann
Foto: Marco Borggrevemulti-talented Jörg Widmann comes to the project not just as an instrumentalist and conductor but as a "composer colleague" of Mendelssohn, making this project all the more attractive. Mendelssohn was a Wunderkind who gained prominence with his compositions at an early age. The symphony he numbered his "First", in c minor, was not just the work of a 15-year-old boy, but already his thirteenth essay in the genre (if one counts his twelve string symphonies too). Mendelssohn was both immensely gifted and entered into his chosen career with incredible vigour and unrelenting industry. His family background also provided well-nigh ideal conditions for him to unfold his talent in the highly cultivated milieu of the Berlin salons. He was even able to try out his practical conducting skills with an orchestra provided for the purpose. His background in the "large-scale chamber music" of his string symphonies perhaps makes it all the more pertinent to approach his oeuvre with a chamber orchestra, not with the usual heavy, late-Romantic orchestral apparatus.
Mendelssohn was himself highly educated and possessed of a broad historical knowledge (both in music and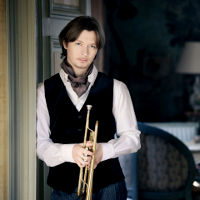 Sergei Nakariakov
Foto: Thierry Cohenbeyond it), and it is indispensable to Jörg Widmann's concept here that the works of this history-conscious Romantic composer should be juxtaposed in all their facets with new works of our own time – composed by Widmann himself. This first edition of the series features such a "bridging" work that is not just the obligatory solo concerto such as one might expect in a concert programme, but a work in a genre popular with Romantic composers such as Schumann and Weber, namely a Konzertstück or "concert piece". Furthermore, ORFEO is delighted to be able to present not just a first-class soloist here, but also a work written especially for him by the Artistic Director of the project, namely Jörg Widmann's ad absurdam. It probably takes a masterly instrumentalist and composer such as Jörg Widmann to be able to divine and explore the truly transcendental possibilities and musical intelligence that this unique virtuoso demonstrates with breath-taking skill at the very boundaries of his instrument – a uniqueness that could not find full expression in the "traditional" repertoire with its festive clarion calls. Nakariakov's mastery of circular breathing is employed here in particular (a technique that one otherwise occasionally finds on the oboe). It is typical of Jörg Widmann's alert creative spirit that he makes use of these unique opportunities with a dash of Romantic irony, heightening them to the point of absurdity – as the title suggests. And despite his mastery of modern compositional means, he here takes the opportunity to offer a truly exciting, dashing piece too.
Mendelssohn's surging, virtuosic "Italian" Symphony is thus incorporated into an overall view of the oeuvre of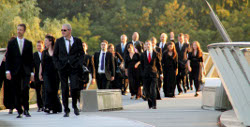 Irish Chamber Orchestra
Foto: Dave Huntthis exuberant symphonist. It is here placed in a programmatic setting that is both worthy of it, and at the same time more natural, yet somehow so much more surprising than that to which we have otherwise become so accustomed.
---
| | | |
| --- | --- | --- |
| | move to consequent order no. | |
ORFEO
ORFEO D'OR