Violin Concertos • 2 Serenades
Orfeo • 2 CD • 1h 27min
Order No.: C 896 152 A
---
Composers/Works:
J. Sibelius: Violin Concerto d minor op. 47 for Violin and Orchestra
J. Sibelius: Serenade D major op. 69 No. 1 for Violin and Orchestra
J. Sibelius: Serenade g minor op. 69 No. 2 for Violin and Orchestra
C. Nielsen: Violin Concerto d minor op. 33

Artists:
Baiba Skride (Violine)
Tampere Philharmonic Orchestra (Orchester)
Santtu-Matias Rouvali (Dirigent)

Nielsen • Sibelus - Violin Concertos • 2 Serenades
When Richard Strauss gave the


C 896 152 Aworld première of the heavily revised version of the Violin Concerto by his composer colleague Jean Sibelius in 1905, with Kárel Haliř as soloist, this marked the birth of a masterpiece at the second attempt, as it were. Since the Second World War at the latest, this concerto has enjoyed an unstoppable series of triumphs through the concert halls of the world. Sibelius came from what was then a Russian province, the Grand Duchy of Finland, and was younger than Strauss by just one year. He had conducted the world première of the first version of his Concerto two years earlier in Helsinki, with Viktor Nováček standing in for Willy Burmester, who had been originally intended to play the solo part. The reaction to the work led no one to suspect that it could ever enjoy a success such as was later the case, and in fact the local critic-in-chief of the time, Karl Flodin, wrote extremely negatively about it. But the composer did not descend thereafter into Nordic melancholy, taking this criticism instead as an opportunity to subject his work to a serious process of revision.
As was typical of Sibelius's approach in his large-scale works, he here offers his own unique interpretation of the forms common to the genre. In some aspects he remains traditional, while in others he is surprisingly innovative in what he leaves out or replaces with something new. His large-scale architecture using well-tried formal elements and astonishing "open spaces" might be partly the reason why this work is so often found to offer impressions of vastness and of yearning, not unlike the landscapes of the native land of its creator. This feeling of space is here paired with an interplay between an often lyrical, tender, late-Romantic tone and repeated moments of incredible technical virtuosity that are emotionally breath-taking for performer and audience alike.
It is worth noting here, once again,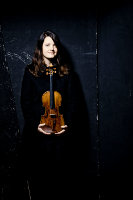 Baiba Skride
Foto: Marco Borggrevethat there seems to be a particular affinity for this work among women violinists. The violin repertoire is hardly small, but it tends to be one-sided in the works generally chosen by performers. In her recent CD releases, however, Baiba Skride has time and again endeavoured to offer carefully considered, stimulating programme combinations that can prompt a joy in discovery on the part of her listeners. For example, she has combined Brahms's Violin Concerto, which – especially in its last movement – is so clearly inspired by "Hungarian" music, with the perhaps most idiomatic version of his popular "Hungarian Dances": the rarely played, highly virtuosic version made by his friend Joseph Joachim for violin and piano (she is on this CD accompanied by her sister Lauma: C 829 112). And she has combined on a single CD Schumann's three works for violin and orchestra – the Violin Concerto, which itself is rare enough on concert programmes, plus the composer's own arrangement of his Cello Concerto and the version for violin and orchestra of his late Violin Fantasy as arranged by Joachim (also a friend of Schumann, of course; C 854 131). On another CD, Skride offers a fresh, well-nigh exuberant combination, playing the violin concertos by Stravinsky and Martin (on C 849121). And most recently she has recorded the violin concertos of Szymanowski – which are so full of musical and violinistic riches – alongside his "Myths", again with her sister Lauma at the piano (C 873 141). For Baiba Skride, coming from the Baltic, it was natural – both in terms of her biography and her native geography – that she would want to place the Violin Concerto by Sibelius in this, his anniversary year, alongside the sole violin concerto by his exact Baltic contemporary Carl Nielsen (1865 – 1931). And perhaps, above and beyond Baiba Skride's own naturalness of manner, we can also hear a certain worldliness and directness here in her approach to the Sibelius Concerto – a work so holy to violinists – that allows us to discern a special familiarity with it on her part. Whereas the work by Nielsen, which was given its first performance in the aesthetic epoch-making year of 1911, is in compositional terms slightly more progressive, when one takes a broader view we can today discern the similarities between both works in their degree of modernity (or perhaps in their more or less conscious rejection of it). This applies both to their interpretation of concerto form and to the self-consciously extreme technical demands that they make on the soloist. Incidentally, both composers were trained violinists who earned their living for a while from their instrument. Perhaps this is the reason why these two concertos are not regarded as being un-violinistic, despite their considerable virtuosic difficulties. Skride here also includes Sibelius's two Serenades of 1912/13 for solo violin and orchestra – two similarly original examples of his art of composition that are cast in a very different tone and in a smaller-scale genre. The self-assured, wilful, yet responsibly tradition-conscious Violin Concerto by Nielsen was composed, as it were, with his symphonies in the background, where he was experimenting with progressive tonality in a manner more progressive than Sibelius (though without branching off into Modernism). Alongside the latter composer's more established masterpiece, Nielsen's formal fantasy and the newness of what he has to say (while still remaining accessible to his listeners) mean that his concerto nevertheless deserves a real chance to assert itself.
---
| | | |
| --- | --- | --- |
| | move to consequent order no. | |
ORFEO
ORFEO D'OR