FonoForum März 2016
CD des Monats
STEREO April 2016
---
Composers/Works:
W.A. Mozart: Concerto A major K 622 for Clarinet and Orchestra
J. Widmann: Echo Tanz (from: Drei Schattentänze)
J. Widmann: (Under)Water Dance (from: Drei Schattentänze)
J. Widmann: Danse africaine (from: Drei Schattentänze)
C.M. v. Weber: Clarinet Concerto No. 1 f minor op. 73 for Clarinet and Orchestra

Artists:
Jörg Widmann (Klarinette)
Deutsches Symphonie-Orchester Berlin (Orchester)
Peter Ruzicka (Dirigent)

Clarinet Concertos • Jörg Widman
When

C 897 151 Athe clarinettist Jörg Widmann releases his first-ever recording of Mozart's concerto, it is a special occasion in a different sense from what one might expect, given that this exceptional work is played and recorded so often. ORFEO is proud to be able to present Widmann's first CD recording of this work, which is also the prelude to a series of further projects with him.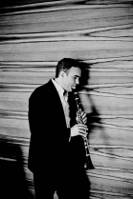 Jörg Widmann
Foto: Marco BorggreveWidmann has naturally already played Mozart's concerto very often, with the most varied combinations of conductors, orchestras and concert programmes. But he only considered releasing a recording after he had gained significant experience of performing the work in concert – and in fact he had a number of different recorded performances to choose from. Widmann consciously chose an uncorrected live recording from a concert in the Berlin Philharmonie, with his colleague the composer/conductor Peter Ruzicka on the podium. Weber's Concerto, however, was recorded in the studio on the Napelastrasse, as was Widmann's own work for this recording. Both in Widmann's remarks in the accompanying booklet and above all in his performance itself, we can undoubtedly recognise an advanced sensibility on his part for the special subtleties and the hidden qualities of this late work by Mozart – a sensibility won from much practical experience in the concert hall. It seems almost absurd to consider that this is a "late work", given that it was written just a few weeks before Mozart's death and is in fact the work of a 35-year-old. But Widmann's first recording of this work is in itself truly "late", given that he is now 42 years old but has long been a well-established performer. And of course, this long wait was on the one hand tied up with Widmann's almost exorbitantly various performing activities, but on the other it has also profited from his own career as a composer. He too began to compose at an early age – in an endeavour to commit to paper his own improvisations on the clarinet – and as a composer, as a committed interpreter of the music of his colleagues, and as an established expert in musical Modernism, he is in a position to offer deep insights into the compositional qualities of a work that is so seemingly simple and "Mozartian", and so unsuspiciously un-modern.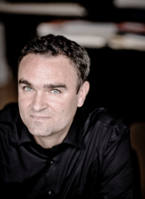 Jörg Widmann
Foto: Marco BorggreveThis deeper view of the work – in which he sees past musico-historical clichés – can perhaps be heard at least indirectly in his interpretation here. But in any case, the great respect for Mozart's art that is evident from Widmann's remarks in the accompanying booklet makes us inquisitive to discover with him the high craftsmanship of compositional "understatement" found in this concerto. A similarly collegial sense of empathy is clear from Widmann's fine text when he gives his reasons for choosing to couple Mozart's concerto with one by a composer who was both literally and figuratively related to him, namely Carl Maria von Weber. His interpretation offers convincing justification for what is one of the few plausible programme combinations for Mozart's work. And finally, he also interpolates his own solo contribution, a work of his own composition, into the space between these two concertos, almost as if it were a cadenza. In his conversation printed here, he points out that while Mozart's concerto is itself lacking a cadenza – which the unreflecting listener can easily overlook – he would never write one for it, despite receiving concrete requests to do so.
---
| | | |
| --- | --- | --- |
| | move to consequent order no. | |
ORFEO
ORFEO D'OR